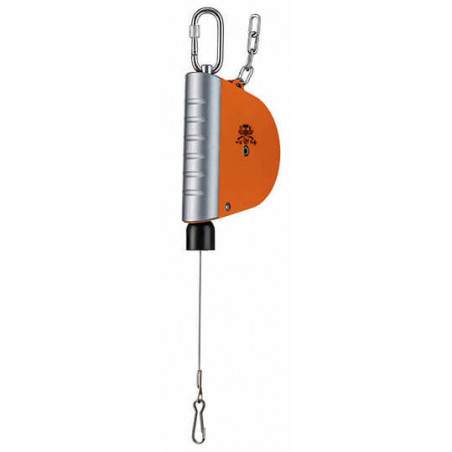  
Spring Balancers (Retractors) 7200
Kromer Light-Duty Spring Balancer from 0 to 0,5kg, cable travel of 1,6m
Type 7200
Light-Duty Spring Balancer
Housing: Impact- and abrasion-resistant plastic, reddish orange
Cable drum: Abrasion-resistant plastic
Cable: High-strength steel cable with elastic cable stop buffer and light-duty spring hook for load suspension
Spring: High-strength special suspension spring, easy load setting
Special features: Longer cable available on request. Version with spiral hose available as well (see Air Hose Balancers)
Safety features: Tested for safety ("GS" label), fully assembled unit, rigid housing, insulated suspension, with safety chain as a standard feature
This balancer model is optimal for all light-weight, hand-operated tools that need to be kept ready in the 3rd dimension at a predetermined posi- tion. With a maximum cable travel of 1.6 m, this model provides ample working range for any application. Thanks to the optimized, user-friendly load setting procedure, the load-carrying capacity of these retractors
can be adjusted very easily to working load weights (from 0.0 to 2.5 kg, depending on the model used). The use of special plastics for the housing and the cable drum, together with a selected special material for the spring, make this balancer model an ideal workplace assistant.
Conclusion:
Thanks to its high durability and quality, this model can be recommended as a fully convincing assistant for any workplace.

Data sheet
Capacity (kg)

0÷0,5

Stroke (mm)

1600

Cable

Acier

Weight (kg)

0,4

Explosion proof

No
No customer reviews for the moment.